M Souza – 5FEB2017
In a stunning first time ever comeback in Superbowl history, NFL Superstar Tom Brady led his Patriots  to a 34-28 victorious comeback after a first-half humiliation score of 3-28 when it seemed all but impossible – the impossible was accomplished.
We should take a minute to recall the severe and relentless punishment, including the 4 game suspension handed down to Brady by a spineless Roger Goodell over Deflate-gate prosecuted with circumstantial evidence and unsubstantiated innuendo.
SPINELESS because Goodell did absolutely nothing to the kneeling-nutsquad of "I'm black, make obscene amounts of money, but I been so discriminated against" led by over-celebrated SF 49er Colin Kaepernick, shamelessly pulling the race card in an attempt to smooth-over a long run of pitiful performance.
Read on below how this cowardly comissioner "disagrees" with Kaepernick, but "respects" his blah, blah, blah.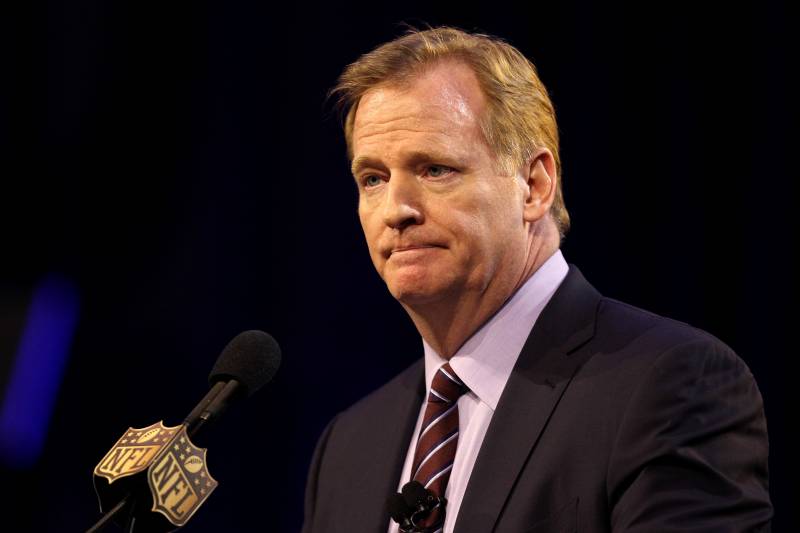 September 18, 2016
NFL Commissioner Roger Goodell vainly attempts to excuse the ongoing protests by San Francisco 49ers quarterback.
Flawed NFL Commissioner Roger Goodell lacks the  the "right stuff"  to sanction Kaepernick's sleazy, unpatriotic Talib-like disrespect of our National Anthem; instead he "praised the shift of players' activism from 'protests to progress.'" (And there you have it – cowardly doublespeak of the lowest order).
Goodell: As I've said before, I truly respect our players wanting to speak out and change the community. We don't live in a perfect society. We want them to use that voice. They're moving from protests to progress and trying to make things happen in the communities, and I admire that about our players being willing to do that. Obviously, we want to respect people. We want to respect our differences. We want to reflect our flag and our country, and our players understand that. So I think where they're moving and how they're moving there is very productive, and we're going to encourage that.
Goodell has weighed in on Kaepernick's protests before. The commissioner previously said he didn't agree with the way Kaepernick was kneeling during the national anthem but did support players' right to seek change in society.
Doublespeak and double standard too. Yes, much safer politically to pick on a white guy – until that white guy you so relentlessly persecuted then shuts you down, and has the stadium booing you to shame.